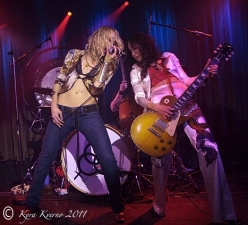 Friday, April 12
Lez Zeppelin—NYC's premier all-female Led Zeppelin tribute band is dropping the hammer on Cambridge. Feeling dazed and confused? Then come on by and let them give you every inch of their love! Mellow Bravo will open. Presented by Rock On! 8 p.m. $20. Middle East Downstairs, 472 Mass. Ave.

Saturday, April 13
MIT Museum Presents 7th Annual Cambridge Science Festival—MIT Museum celebrates science with great hands-on activities and demonstrations. The day's programs feature video and board game designers, scientists from the Woods Hole Oceanographic Institution and interactive kid's activities. Visitors may also view the new exhibition, Hidden Heroes, The Genius of Everyday Things. The exhibition highlights 36 everyday objects—lightbulbs, zippers, paperclips—that have influenced our everyday lives. $8.50. 10 a.m. – 5 p.m. until April 21. MIT Museum, 265 Massachusetts Ave.
Fox & Branch Family Show—Fox & Branch's concerts for kids and their family have become an integral part of their services. Fox and Branch have played family concerts at festivals, schools, churches, day care centers, coffeehouses, libraries, and theaters. A typical show always includes audience participation. In fact, we try to make the entire idea of there being "an audience "disappear: we are just a big group of people having fun. $5 – $10. 10:30 a.m. Club Passim, 47 Palmer St.

Teen Girl Scientist Monthly—Feeling dour? Then stop by Lilypad in Inman Square, where Brooklyn sextet Teen Girl Scientist Monthly will barrage you with all the anthemic punk-pop candy-sweetness you can handle and then some. Grungy Boston rockers the Vegans and the Chandeliers will open. Presented by Boston Hassle. $5 – $10 sliding scale. 10 p.m. Lily Pad, 1353 Cambridge St.
Sunday, April 14
Brave the Caves: An Underground Cheese Lesson—The chilly stone caves beneath the Formaggio Kitchen hold hundreds of pounds of cheese, from 80-pound wheels of Comté to delicate-rinded blues to small logs of Belgian goat's milk cheese destined for our in-house aging program. Go spelunking with Tyler, FK's cave manager, and Matthew, the resident cheese science buff, and explore the science and secrets of the caves. You'll head underground with them to view and discuss the crucial role these temperature- and humidity-controlled rooms play in cheese aging, storage, and maintenance, and round out the lesson by tasting a few examples of what you've learned. Be prepared for cave-like conditions by wearing a sweater or light jacket and shoes that can get a bit wet. $55. 5:30 – 7:30 p.m. Formaggio Kitchen, 244 Huron Ave.
Ladies Rock Camp Showcase—If "When we started out, we didn't even know how to play our instruments!" is the ultimate punk-cred boast, then Ladies Rock Camp has got to be the punkest scene in town. Based in JP, LRC is an intensive weekend workshop in which ladies, most of whom have little or no musical experience, learn to play, form bands and write an original song, all in the space of three days. Stop by to see the newly-minted alumnae strut their stuff. Presented by Girls Rock Campaign Boston. $15. 8 p.m. TT the Bear's Place, 10 Brookline St.